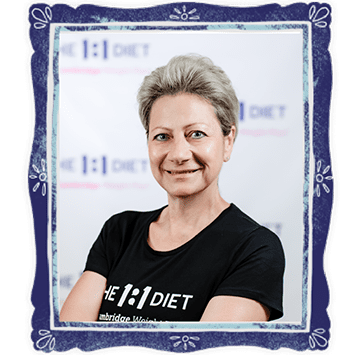 Meet Yianoulla, our consultant.
The decision to become a The 1:1 Diet Cambridge Weight Plan consultant was made easy after seeing the fabulous results achieved by so many people I know, and especially by my husband, Nick! Being a part of his weight loss Journey was the fundamental reason for believing in the diet and wanting to be a part of the The 1:1 Diet "family ".
The products are the key to losing unwanted weight, but equally important is the 1:1 relationship between client and consultant. It is so important for clients to trust that they are being heard.
Working with the public as a fashion designer for more than 30 years I have the experience and patience to know that the key to any success is to listen to your clients needs.
A good relationship with my clients is very important to me as I want them to feel completely at ease with any concerns they may have.I want them to know they can trust that I will be by their side all the way with understanding and psychological support.
I feel very proud when a client trusts me enough to choose me as their consultant and all I want is to justify their decision with great results.
Monday-Friday: 9:00-19:00
Saturday: 10:00-16:00
Follow me at social media​