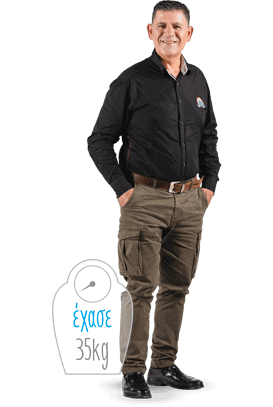 I am 49 years old and a married father of 6 wonderful children. I work for The Electricity Authority of Cyprus manning the phones for the customer call centre and in my free time I like to go for long walks with my dogs.
Lately however, when taking my dogs for walks, I would get tired very easily and our walks got shorter and shorter due to my reduced stamina. Also, I wasn't in a good place psychologically as I was constantly bullied and teased because of my weight, and my appearance in general. There were many times when I did not want to take part in any social obligations I had with my family, causing even more problems. The last few years I have faced a number of health problems and my doctor warned me that I had to lose weight urgently or my health would be at serious risk.
That was the final push. I subsequently decided to follow the Cambridge Weight Plan and take part in the Sigma TV show 'Success Story' and I met my Consultant
Natalie Savchenko.
Now that I have lost 35 kilos, the serious problems I had with my back and my knees have improved drastically. My blood pressure is now back to normal healthy levels and I generally feel wonderful with the new me and my new look! My wife has also stopped complaining that I snore and I have regained a better quality of life.